Raleigh Divorce Attorneys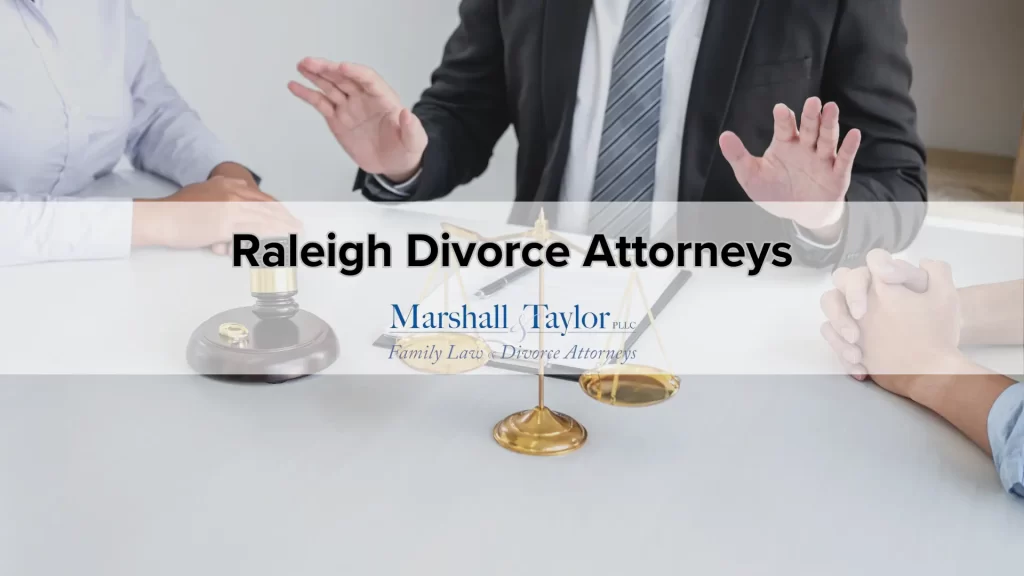 Ending a marriage is a challenging undertaking. Aside from the high emotional toll, many other considerations exist when dissolving a partnership. Even if a divorce is amicable and both parties are ready to move on, in many cases, the process requires a complete restructuring of a person's life. You and your spouse must separate your finances and assets while helping your family through the ordeal. It can be overwhelming.
The Raleigh divorce attorneys of Marshall & Taylor PLLC have years of experience helping Raleigh residents with their family law needs. We can use that experience to help you get through this difficult time. Call us at (919) 833-1040 for a consultation, and let us show you how we can help you get the best outcome possible after your divorce.
Kinds of Divorce Cases We Handle
Divorce in North Carolina covers a wide range of legal issues, and we've been recognized as accomplished lawyers in the field. We handle the following types of family law cases:
Contested divorce. Though only about ten percent of divorces are contested, we can help resolve the toughest of marital disputes and reach a positive resolution.
Uncontested divorce. Even when couples agree on the terms of a separation, we can make sure the agreements stand the test of time and are documented properly.
Collaborate divorce. If you and your partner have already worked out the details, we can make sure the paperwork and logistics are as they should be.
Mediated divorce. We frequently represent clients going through the mediated divorce process, and we are knowledgeable about the process and procedures.
Separation. Legal separation can sometimes be a simpler option than a divorce, and also may be used to determine whether divorce is actually desired. We can make sure the process goes smoothly.
Child custody. A divorce can be devastating for the children involved. We can help devise a child custody agreement that protects those that matter the most to you while also asserting your rights.
Child support. Attaching a dollar amount to the support your family needs can be overwhelming. We can help make sure an agreement is reached that protects those you love.
Alimony. We can stand by you and hammer out what we believe will be the best scenario for alimony, whether you'll be the one paying or the one receiving it. We will vigorously defend your position with the court and make a strong case to obtain the outcome you desire.
Property division. Dividing up assets and personal property can turn acrimonious quickly. We can make this process less contentious and smoother.
Alternative dispute resolution. Not all divorces start out from a good place, and if you need a mediator or arbitrator to assist in dissolving your partnership, we can help you through the process.
Domestic violence and restraining orders. A dispute that escalates to violence can sometimes require involving law enforcement to keep all parties safe and free from harm. We can help you get a restraining order if necessary.
Do I Need an Attorney for My Divorce in Raleigh?
This is a common question in separations with informal agreements about dividing property or family duties. Why would an attorney be necessary if all parties want to move on with their lives?
Divorce can be more complex than people expect. You must protect yourself and formalize the proceedings, or serious problems can arise for you or your loved ones later in life.
Here are some additional reasons why hiring an attorney to assist you is a good idea:
Mediation. We know the ins and outs of mediated divorce and are particularly well-suited to guide and advise you throughout a mediated divorce. We can help you determine whether a mediated divorce is the way to go for you and your family.
Knowledge and experience. An experienced divorce attorney can do more than make the process go more smoothly. We can ensure the legality of the divorce. We have the knowledge and experience with North Carolina family law to protect your rights.
Child custody agreements. Often the most challenging part of a divorce is determining the custody of the children in a family. Even if parties make an agreeable arrangement, people and relationships change. This can make custody agreements fail unless they have a formal agreement on record. We can help negotiate these problematic decisions and record them in writing.
Objectivity. A divorce is an emotionally charged undertaking. You may be feeling anger, frustration, anxiety, or even depression due to the separation. A good divorce attorney won't be operating from the emotional aspects of the process, as you might be. Your lawyer deals in the facts. We can help you make decisions that are right for you.
Divorce Laws in North Carolina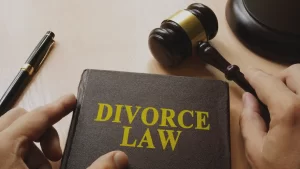 North Carolina has a specific set of laws governing divorce and separation. North Carolina is a no-fault state. This means you don't have to give cause for divorcing your spouse. However, you must meet specific requirements before completely dissolving your marriage. These requirements include:
You must be a legal resident of North Carolina and have lived in the state for six consecutive months.
You must live apart from your spouse for one consecutive year.
If the divorce agreement is mutual and you meet these requirements, you can file for absolute divorce. If you wish to file for a fault-based divorce, you can obtain a "Divorce from Bed and Board" (DBB) if your spouse performed any of the following actions:
Abandoned their family
Kicked you out of the family home
Inflicted cruel or violent treatment on you
Made life unbearable due to poor treatment
Made life unbearable due to alcohol or drug use
Committed adultery
A DBB is not a complete divorce and would still require filing for absolute divorce later, but it can serve several essential functions. You can file for a DBB without separating for a year. A DBB can be grounds for removing your spouse from your home. It can also help with child support or alimony negotiations later on. To learn more about other legal terms, such as DBB, visit the glossary of Marshall & Taylor PLLC.
Frequently Asked Questions about Divorce in Raleigh, NC
You must be a resident of North Carolina for six months before you file for divorce. Once the document is filed and served upon your spouse, they have 30 days to respond. If a response is filed, the divorce can be granted right away if the divorce is uncontested. However, if no response is filed, you must wait the full 30 days after the divorce complaint is served before a divorce can be granted. After the 30-day waiting period, a hearing will generally take place within two weeks. If no response was filed, the court will assume that the parties are in agreement, and the divorce will be granted.
Aside from the filing fees and fees to serve divorce complaints, this is nearly impossible to determine because each divorce is unique, with different circumstances and assets for each family. Talk to your attorney about costs
No, common law marriages are not recognized in the state.
The courts will make every effort to split any and all marital assets 50/50 between the parties, but this decision can be affected by several factors, such as income distribution, separate property, both spouses' physical and mental health, and age.
A divorce is a difficult process for all involved, and you need an attorney with the knowledge, compassion, and understanding to help you navigate the complex legal process as well as provide support as you change the course of your and your family's life. Whether it's assistance with child support, dispute resolution, or property division, we can help. Jeffrey Marshall, one of our partners, is a North Carolina Board Certified Family Law Specialist, one of only a few hundred lawyers in the state to achieve this elite distinction.
For the last 25 years, Marshall & Taylor PLLC has helped families just like yours go through this process, and we can use our knowledge and skills to make your divorce smoother and easier. We can provide steadfast legal counsel, mediate between affected parties if necessary, and take the burden of the paperwork and logistics off your shoulders, so you can focus on what matters.
Head over to our Testimonials page to hear from some of our satisfied clients
Contact Marshall & Taylor PLLC Today
If you're ready to separate from your spouse, it's imperative that you contact the attorneys at Marshall & Taylor PLLC as soon as possible. We will protect your rights, make sure you get what you're owed, and make the process as stress-free as we can. Call us at (919) 833-1040 today for a confidential consultation and let us help you move on with your divorce.