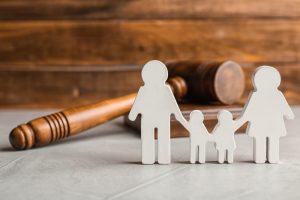 The city of Durham, North Carolina, is an exciting place to live. With its more than 276,000 residents, Durham offers a booming entrepreneurial scene, top-of-the-line educational institutions, and rich cultural experiences to all who live there. Just as with any city, Durham's residents deal with a wide variety of family situations. Oftentimes, these situations evolve and shift over time as families grow, divide, and change.
Is your family undergoing a divorce, adoption, or other change that requires legal counsel? At Marshall & Taylor PLLC, we are ready to help you and your family manage any legal situation that may arise for your family. Our attorneys have been representing clients just like you for many years, and no matter what circumstances led you to require a family law attorney, we can handle the legal work while you focus on your family. Call us today at (919) 833-1040.
Why You Need an Attorney
Dealing with a change in your family's situation can be difficult, emotionally draining, and stressful for everyone involved. Our attorneys work to make your family feel as supported and comfortable as possible while we sort out the details of your divorce, child support case, custody agreement, adoption, or other family change.
Our team has been representing families just like yours for over 25 years. In that time, we've gained insight into the nuances and specifics of North Carolina family law. Even when you don't quite understand the legislation surrounding your family's case, our attorneys are more than equipped to sort out these regulations on your behalf.
Additionally, we will provide you with clear-sighted, objective legal advice during these emotionally charged times to help you make the best decisions possible for your family.
How a Marshall & Taylor PLLC Family Law Attorney Can Help
At Marshall & Taylor PLLC, we work hard to make you feel supported amid the changes your family may be undergoing. Part of this commitment includes the way we handle communication. Our attorneys will manage all communication on your behalf so that you do not have to worry about getting in contact with the courts, law enforcement, the attorney on the other side, or other parties. Additionally, we provide you with access to our wide range of legal connections. When you say yes to Marshall & Taylor PLLC, you're doing more than just working with a high-quality law firm. You're gaining access to our many connections, both local and national. You're also saying yes to our years of experience that set Marshall & Taylor PLLC apart from other Durham family law firms.
Jeffrey E. Marshall, one of our founding attorneys, has been dedicated to providing families with excellent legal counsel since graduating from Capital University Law School. Marshall has been named a Top 100 Lawyer by the National Advocates, included in "Top Attorneys in North Carolina" by Charlotte Magazine, and included on a list of the 10 Best in Client Satisfaction by the American Institute of Family Law Attorneys in both 2014 and 2015. His hard work and attention to detail have made him an invaluable mentor, guide, and member of the Marshall & Taylor PLLC team.
What Is Family Law?
Because families are constantly evolving and changing, there are times when you need a lawyer to look out for your or your children's best interests. Family relationships are intimate, so an attorney who remains unbiased and supportive can be a valuable asset as you sort through your family's changing circumstances. Family law cases most often deal with legal matters between spouses, parents and children, and domestic partners.
Family Law Cases We Handle
Since our firm's beginnings, we've been dedicated to efficiently and skillfully representing our clients in a broad range of family law issues. A few examples of cases that we handle include:
FAQs
We understand that it can be confusing to deal with the many aspects of family law, particularly when you are in the middle of determining the best course of action for you and your family. For your convenience, we've included answers to a few of the questions we most often hear from our clients below.
How long will it take to resolve my divorce case?
The real answer is that it depends. If you have an uncontested divorce, it is possible that your divorce could be completed in as little as a couple of months. However, if you have a divorce in which every issue is contested, from the division of property and assets to child custody and visitation, the process will necessarily be much longer. It may be possible to reduce the amount of time required to conclude your divorce if you and your spouse can come to an agreement through mediation or arbitration. A divorce will take longer if it needs to progress all the way to court for a judge to rule on the outstanding issues.
How much will my family law case cost with a Marshall & Taylor PLLC attorney?
Each case brings a different set of filing fees and processing fees. Additionally, each case is different in the amount of work required by your attorney. Because of these variables, it is difficult to provide you with a specific cost. You can get a better idea of what your case might cost by speaking with one of our attorneys at (919) 833-1040.
Can't I handle my family's arrangements on my own?
Although you know your family best, it's a good idea to contact a lawyer when making big changes in your family's living situation. Whether you're adopting, divorcing, or modifying a visitation schedule, having an attorney on your side keeps the situation as streamlined and efficient as possible and makes certain your rights are protected.
Call Marshall & Taylor PLLC Today
Family law cases can be confusing and challenging at the best of times. When separations, additions, and changes take place, it is important to have a trusted attorney on your side who will look out for you. The family law attorneys at Marshall & Taylor PLLC can help you through this difficult time.
If you need a Durham family law attorney, contact Marshall & Taylor PLLC today at (919) 833-1040. We'll connect you with one of our attorneys so that you can explain your situation and we can help you determine the best next steps for you and your family.