Raleigh Uncontested Divorce Lawyers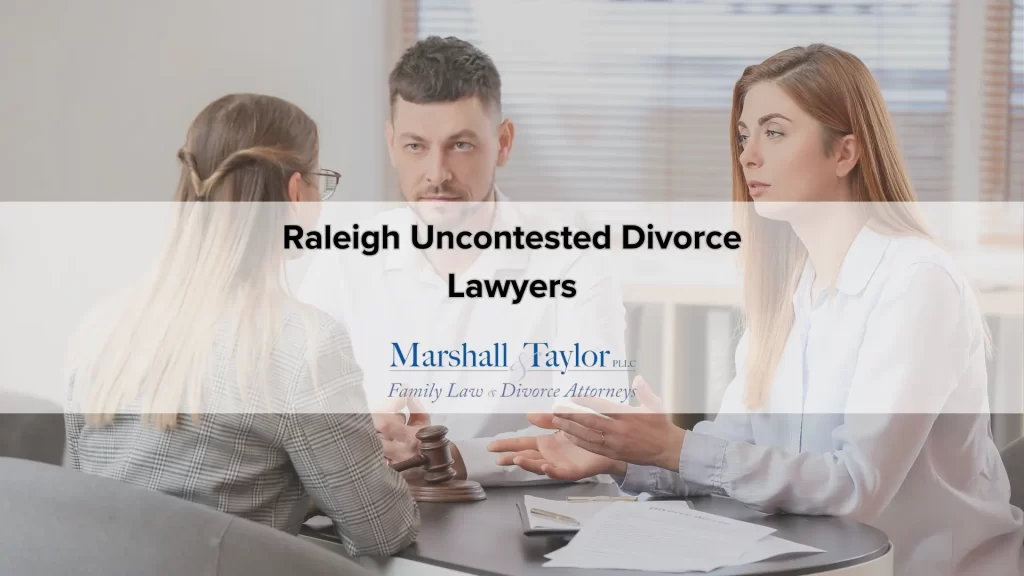 Are you considering or already going through an uncontested divorce? If so, contact Marshall & Taylor PLLC for help and assistance. Uncontested divorces, which comprise the majority of U.S. divorces, occur when both parties are willing to split amicably and agree on a settlement. Although there are not as many issues to work out in an uncontested divorce, ending any marriage is difficult. You might need to address contentious issues like asset division, custody, and support payments to reach an agreement.
Working through the details of a divorce agreement can be the most overwhelming part of ending a marriage. This is true even if your divorce is otherwise uncontested. The Raleigh divorce attorneys at Marshall & Taylor PLLC can help you navigate this detailed process. We'll support you every step of the way as you establish an equitable divorce agreement.
Contact our Raleigh divorce attorneys at (919) 833-1040 to schedule a consultation.
Why Do I Need a Lawyer?
With the end of any marriage, there is the need to divide accumulated property and debts properly and to settle issues on child custody and support. Expressing your specific wants and needs can be difficult, with high emotions. This is especially true when trying to end your marriage amicably and maintain peace.
You will need an attorney to express your needs objectively to ensure you and your spouse receive a fair split of your assets. More importantly, you will need an experienced negotiator on your side—someone to keep you from losing something more important, like custody of your children. You need an attorney to evaluate your case, gather supporting documentation, and always represent your interests.
Why Choose Marshall & Taylor PLLC?
At Marshall & Taylor PLLC, our attorneys have helped clients across North Carolina handle their divorce cases. They are knowledgeable in their field and have earned a reputation for success. We have a series of client testimonials that can attest to our dedication and experience. Our lawyers also received the AV Preeminent Award 2018 for the Highest Professional Excellence.
Our attorneys understand that this is a difficult time and that the decisions made from the divorce will affect you for the rest of your life. They are ready and equipped to talk to you about your needs and desires, and they will work for the best outcome of your case.
Benefits of an Uncontested Divorce
An uncontested divorce is not right in every situation or for every couple. But for couples who can work together on divorce agreements, uncontested divorces offer considerable benefits. Some of the most significant of these potential benefits include the following:
Saving time and money. The reason why divorces are so time-consuming and expensive is that couples generally cannot agree. When couples cannot make decisions peacefully, court proceedings are often necessary. This can significantly increase the divorce period. An uncontested divorce, meanwhile, avoids a lot of court proceedings and costs. The attorneys for each side will negotiate until they can reach an agreement about assets and child custody issues. Because you will stay out of court, you will only need to pay for the attorney's time and the cost of filing papers rather than court costs and other legal fees.
Minimizing conflict. It is much easier to resolve issues quickly if you both agree to an amicable divorce. That's because each party's attorney is advocating on their behalf and negotiating with the other attorney.
Settling amicably. In an uncontested divorce, both partners often agree that the marriage is over and how to split assets between both parties. If both spouses' attorneys can agree on a settlement without going to court, there is more room to compromise and less time wasted.
Protecting children. There are usually no court proceedings or animosity between the parties in an uncontested divorce. As a result, children are more likely to see their parents working together than fighting vicious custody battles.
To determine if an uncontested divorce is right for your family, contact the experienced legal team at Marshall & Taylor PLLC.
North Carolina Uncontested Divorce – Frequently Asked Questions
You likely have many questions if you are going through an uncontested divorce in North Carolina. At Marshall & Taylor PLLC, our Raleigh divorce attorneys get a lot of questions from clients about uncontested divorce. Listed below are several of the most commonly asked questions. We hope you find our answers helpful.
Contact us at (919) 833-1040 if you have further questions about your divorce.
I am getting an uncontested divorce in North Carolina. Do I need a divorce lawyer?
You do not need a lawyer to get an uncontested divorce in North Carolina. However, finalizing a divorce decree is one of many issues that can arise when terminating a marriage. For the divorce decree and other complex legal matters, it's critical to have the help of an experienced North Carolina divorce lawyer.
If you try to handle your uncontested divorce without legal counsel, you risk making mistakes that could cost you. If you have any alimony, child custody, or child support disputes, it is never wise to handle them alone. With help from a Raleigh divorce lawyer, you can avoid personal disputes that could cost you time and money.
The lawyer's goal will be to keep you informed of your legal options and protect your best interests. An attorney will work hard to resolve any complications in your North Carolina divorce. Contact the skilled and compassionate Raleigh divorce lawyers at Marshall & Taylor PLLC. We are here to review your case, explain your legal rights, and discuss how we can meet your goals.
What is the first step to take in a divorce?
The first step is for the filing spouse to complete and submit the required paperwork to the court. Each divorce must include the following:
Complaint for Absolute Divorce
Domestic Civil Action Cover Sheet
Civil Summons
Servicemembers Civil Relief Act Affidavit
North Carolina courts require filing spouses to pay fees when submitting divorce paperwork. The local county sheriff then serves the documents to the other spouse, who has 30 days to file a response. A divorce hearing gets scheduled in court, after which the court approves the divorce and returns the parties to single legal status. Property distribution, child custody, child support, and alimony issues are best decided before the hearing. The best way to do this is through a separation agreement drafted with the help of lawyers.
Is there a waiting period for an uncontested divorce in North Carolina?
Yes. In North Carolina, both parties must observe a 30-day waiting period after the non-filing party is served the divorce complaint. Once the waiting period has passed, the court schedules an initial hearing.
Talk to a Divorce Attorney in Raleigh
Filing for any divorce is not an easy decision to make. The lawyers at Marshall & Taylor PLLC want to make the process as quick and smooth as possible for you. To connect with an experienced divorce lawyer, you can count on, call us today at (919) 833-1040.