Raleigh Contested Divorce Lawyers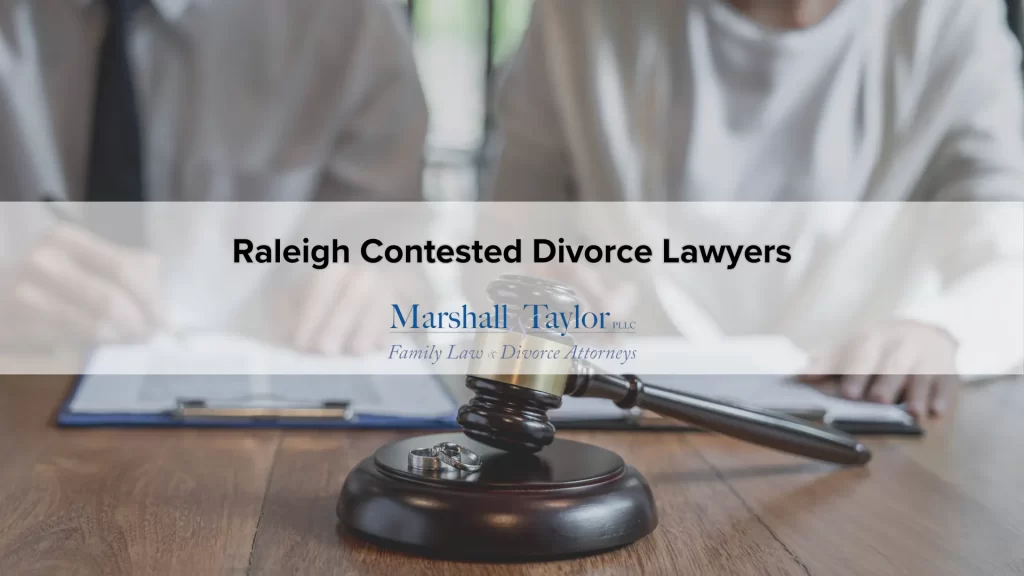 Contested divorce is relatively rare, making up only about 10 percent of all divorces in the United States. Our lawyers at Marshall & Taylor PLLC know how difficult and frustrating it can be for those in Raleigh going through a contested divorce. Dealing with disagreements regarding issues such as alimony and child custody can take a toll, emotionally and financially.
Fortunately, though, you can get the legal help you deserve to ensure that your interests and rights are protected. Decisions dealing with family will impact you for the rest of your life. Make sure you have the best representation possible to advocate for your needs and those of your loved ones. Don't leave things to chance regarding something as important as family.
The experienced Raleigh divorce attorneys at Marshall & Taylor PLLC understand that filing for divorce is never simple. Over the years, we have put our legal skills to work for countless families to ensure the process goes as smoothly as possible. We are the team to call if you are looking for a reliable legal team that you can trust with sensitive matters. Contact the Raleigh contested divorce lawyers at Marshall & Taylor PLLC and let us fight for you and your interests. Call (919) 833-1040.
Why Do I Need a Lawyer?
It is complicated and emotionally taxing to be in a family dispute. Express your needs and desires can be difficult because divorce is so stressful. Emotions may cloud your thoughts and cause irrational reactions that negatively impact your case.
In addition to the emotional burden of going through a divorce, a contested divorce requires both parties to either come to an eventual agreement or dispute the terms of the divorce in court. If you do not have an attorney, disputing various factors like child custody, asset division, and spousal support with a clear head can quickly become overwhelming.
Experienced and skilled lawyers know the law and the strategies to handle complicated contested divorce cases. They know all that is required for you to prove a need for alimony, the ability to parent, and other contested issues mentioned below. They have an objective view of the facts and can present them effectively to the court to get you what you want.
When dealing with legal family matters, issues can quickly become complicated. A divorce lawyer can account for and adapt to all possible factors throughout the process. Additionally, because both parties in a contested divorce are likely operating at a heightened level of emotion, the trusted and measured guidance of an experienced family lawyer can be an invaluable asset.
Why Choose Us?
The lawyers at Marshall & Taylor PLLC have dedicated their careers to helping clients going through difficult divorces get everything they need. We have built a reputation for efficiency and efficacy among our clients. We are trusted and renowned professionals in the family law field, and we have helped clients all over North Carolina with cases involving multiple contested divorce issues. We have developed effective strategies to get clients the result they want.
Attorney Jeffrey Marshall is a North Carolina Board Certified Family Law Specialist. This is a distinction that few attorneys achieve and denotes a high level of commitment to family law. If you are looking for a family lawyer, you will want a certified specialist with hours of practice in and out of the courtroom on your side. Attorney Travis Taylor has this level of experience with family law issues. In addition to working with appeals, Mr. Taylor practices law in federal district and state courts in North Carolina.
Be one of our countless success stories by contacting us today. We will make the process less stressful and time-consuming. We understand this is a difficult situation for you, and we are here to advocate on your behalf.
Issues That May Result in a Contested Divorce
There might be any number of reasons for filing a divorce, but filing a contested divorce means you and your spouse cannot agree on settlement terms at all. Typically, contested divorces involve serious disagreements on issues like:
Child support: Child support disputes arise when parents don't agree on who should pay child support or how much. This depends on who has primary custody of the child. It also concerns the parent's salary and other financial information.
Visitation/Custody: When there is a custody dispute in a divorce, separating parents cannot agree on who will have custody or visitation or how frequent it will be. This is especially difficult when parents live far away. But even in cases where the parents live in the same city, proving who should have primary custody of the child is important because it can impact the rest of the relationship with your child and how they will be raised.
Alimony: Alimony is a court-ordered payment for one spouse to pay the other a certain amount after divorce. Often one party does not want to pay the other alimony. Figuring out terms of alimony, or if any at all is appropriate, also makes the process more lengthy and more complicated. This is because the attorneys involved must gather and provide financial records to prove whether alimony is necessary.
Division of Property / Assets: When you have built a life with someone, you often share all your belongings with them, and it may be hard to split things evenly. Dividing property or assets between former spouses can be tricky and lead to more arguments among the parties involved.
Division of Debts: Along with dividing assets and property, former spouses must split their debts in divorce. This can add a layer of difficulty when one spouse is unemployed and unable to pay off debt or if one spouse makes more money than the other. Couples often end up fighting over who actually owns the debt.
Domestic Violence: Domestic violence can affect custody issues in a contested divorce. If there has been domestic violence, it is common for the judge to grant primary custody to the parent that has not been violent. It also affects visitation. Sometimes, the judge may deem the domestic abuser unfit even for visitation because evidence suggests they are dangerous.
Because a contested divorce typically involves disagreements regarding the above topics, the process can sometimes take longer and cost more than an uncontested divorce. When a compromise isn't possible, it is up to a judge to choose what is fair. Often, this is the only way for the parties to resolve these issues. For this reason, many people who file a contested divorce choose to enlist a legal representative's help, as they can both make sure your interests are represented and often expedite the process.
Frequently Asked Questions
Whether you're currently in the process of filing for divorce in North Carolina or you're considering it, you need to know your options. Our family lawyers know that when you reach out to us, you have questions about how a lawyer can help and how the legal process will unfold. Read over our frequently asked questions and contact a legal professional at (919) 833-1040 today for answers to any specific questions you have about your case.
When Can I File for Divorce in North Carolina?
Typically, North Carolina couples can file for divorce after being separated for one year and one day. Additionally, at least one spouse must have intended for the separation to be indefinite during the separation. North Carolina is somewhat unique in that it only allows no-fault divorces.
No-fault divorces indicate neither party holds the other responsible for the relationship's failure. Separation is the first and most common means through which North Carolina couples file for divorce. The only other no-fault grounds for divorce is incurable insanity.
What Is Required to File Based on Incurable Insanity?
Requirements for spouses filing for incurable insanity include living apart for at least three years due to the other spouse's mental condition. The spouse deemed insane must have been institutionalized at least one time during the separation or have been confirmed "insane" by a judge three years before filing for a divorce.
What Is a Separation Agreement?
A separation agreement is a private document that separating spouses draft. Many separation agreements detail various terms of separation and divide assets and responsibilities. The factors discussed in a separation agreement can include financial matters, property division, child custody, and living situations. A separation agreement is a tangible document parties can refer to later.
Are Separation Agreements Required?
No, separation agreements are not necessary for divorce. However, since most divorces can only take place after a year and a day of living separately, the presence of an explicit agreement proving separation can expedite the process. Attorneys can handle every aspect of drafting thorough, effective separation agreements.
What Are the Benefits of a Separation Agreement?
In many instances, a separation agreement can make the divorce process easier. A clear and thorough separation agreement often forces couples to contend with important issues like child support and alimony. Drafting a separation agreement bodes well for a couple's ability to engage in tough logistical conversations. When couples can reach agreements, the divorce process is likely to be much smoother.
Talk with an Attorney in Raleigh about Contested Divorce
Filing for divorce is not easy. Compromising with an ex-spouse is even harder when each party wants something completely different. Sometimes a contested divorce is the only way you and your spouse can finalize settlement terms. The attorneys at Marshall & Taylor PLLC can fight for your rights in a contested divorce case. Call us at (919) 833-1040 today to discuss your situation and get the help of a lawyer you can trust.