Raleigh Joint and Sole Custody Lawyers for Legal Separation
Almost every marriage encounters difficult moments. When these challenges are so great that they lead to a breakdown of the relationship, many couples fear that their only option is to seek a divorce. Yet North Carolina recognizes legal separation as a more flexible way for spouses to give each other space to determine how best to move forward.
However, legal separation still requires couples to make many important decisions, including decisions about the custody of any children they may share. One spouse may have sole custody of the child, or you may share joint custody. Discussions about what serves the best interests of the children can be fraught. Having legal counsel on your side can help clarify what is necessary to create the favorable outcome your family deserves.
If you are separating from your spouse, the Raleigh separation lawyers at Marshall & Taylor PLLC will work to protect your parental rights. We recognize that the safety and well-being of your child are the most important considerations for you. Call us today at (919) 833-1040 or contact us online for a confidential consultation to learn how we can help you.
What Is Joint Custody?
Joint physical custody is an agreement between separating spouses that allows each parent to spend a substantial amount of time living with their children. Some separated couples share an equal amount of time with their children, while others divide the time in another way that best suits their family.
Many couples find joint physical custody a suitable arrangement due to its numerous benefits. According to the American Psychological Association, studies show that these benefits include:
The child can build and maintain positive relationships with both parents, which can help them develop healthy skills and life habits as they grow.
Joint-custody children often perform better at school.
The children tend to have a lower risk for anxiety and depression.
Kids with stable relationships with both parents tend to handle stress more resiliently.
Joint physical custody agreements require parents to have frequent interactions with their spouses, which many people find challenging. However, if this type of arrangement is in your child's best interests, you may find that it is worth working through these difficulties.
Joint legal custody occurs when both parents share the responsibility for making decisions about the child. These decisions include such things as education, religion, healthcare decisions, etc. Joint legal custody also requires parents to have frequent contact with each other.
The attorneys at Marshall & Taylor PLLC can work with you and your spouse's lawyer to establish an agreement that everyone finds mutually beneficial.
Furthermore, judges sometimes name one home as the primary household and the other as the part-time home. If you wish to fight for primary status in your joint custody arrangement, our lawyers could work to obtain that outcome for you.
What Is Sole Custody?
Unlike joint custody, parents with sole physical custody will live with their children most of the time. The other spouse will often have supervised or unsupervised visitation rights, but their time with the children will be significantly less than that of the partner with sole physical custody.
Sole legal custody arrangements give one parent legal responsibility for the child. These responsibilities include making decisions about healthcare, religion, education, and other elements of their life. With sole legal custody, one parent does not need to consult with their spouse to make these decisions.
Parents may wish to seek sole physical and legal custody if their spouse has a history of abuse, addiction, financial instability, or mental illness that prevents them from providing a safe and stable home for the child.
The attorneys of Marshall & Taylor PLLC could fight for you if you are seeking sole custody of your child. Alternatively, if you believe that your spouse is unfairly attempting to deprive you of custody, our lawyers could present a case to protect your parental rights.
Considerations When Awarding Custody
When a judge determines what type of custody arrangement to grant, they will consider many factors, including:
The child's needs
The stability of both homes
Employment and income of each parent
The child's educational welfare
The parents' willingness to share custody
The distance between the spouses' homes
If the child is old and mature enough, the judge may also take their wishes into consideration. An experienced North Carolina child custody attorney can present your case in a way that optimizes your chances of a favorable outcome.
Do I Need an Attorney?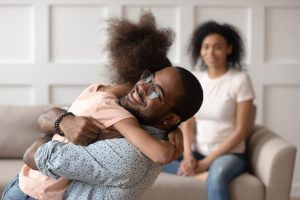 In general, separating spouses create their plans together with the assistance of an independent mediator. Yet just because you will not be appearing before a judge does not mean you should be without an attorney.
A skilled child custody lawyer will have a thorough knowledge of family law in North Carolina, allowing them to address all potential legal issues parents may face during and after separation. Your attorney will have experienced many similar cases, so they will know how best to make the case for the custody agreement you wish to establish. If your case ends up in court, having an attorney will empower you with the ability to present the evidence you need to demonstrate to the judge what your child's best interests are.
Why Choose Marshall & Taylor PLLC?
The family lawyers at Marshall & Taylor PLLC understand the challenges you are facing at this difficult time. Our competent and compassionate attorneys commit themselves to minimizing your stress as you work to establish a custody agreement. We are here to handle all the legal complexities of your case, so you don't have to think about them. With us on your team, you can devote more time and energy to planning what happens in the next phase of your life.
Contact a Raleigh Child Custody Attorney
Even though you might not be seeking a divorce at this stage, the right legal counsel can help protect your rights as you move through your separation process. Whether you initiated the breakup or not, the experienced attorneys at Marshall & Taylor PLLC will help you negotiate your custody arrangements and all other aspects of your separation. Our compassionate family law attorneys understand how important your child's well-being is to you, and we are ready to fight for your rights and theirs.
Call us today at (919) 833-1040 or contact us online for a confidential consultation to learn more about your legal options.