If your marriage has reached the point where you're considering separation and need legal advice or representation, do not hesitate to contact Marshall & Taylor PLLC.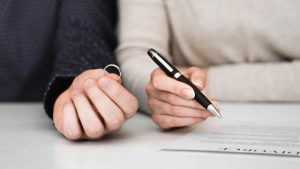 Sometimes, couples choose to live separately while facing issues in the marriage. One or both spouses might decide it's time to dissolve the marriage but filing for divorce isn't an option yet. Others separate for a trial period to determine whether they want to try to work things out or proceed with a divorce.
It doesn't matter what the reason for your separation is. You or your spouse made a choice. Although you don't have to file paperwork, you should understand the state laws regarding separation.
At Marshall & Taylor PLLC, our Pittsboro family law attorneys know how devastating it can be to end a marriage. Even if it's the right choice, it can disrupt every aspect of your life. Many people feel stressed and overwhelmed by the changes they face. Our job is to help you navigate the complicated separation process and represent you in your case.
Call Marshall & Taylor PLLC for your initial consultation at (919) 833-1040 today to learn more about what we can do for you.
Common Types of Separation in North Carolina
You can legally separate from your spouse in North Carolina. Separation doesn't require filing a separation agreement or another legal document. However, creating a separation agreement could be beneficial, especially if you eventually want to file for divorce.
You can pursue the following types of legal separation in North Carolina:
Divorce from bed and board –A court might grant you a divorce from bed and board if your spouse is at fault for the issues in your marriage. Abandonment, adultery, and drug or alcohol abuse are common grounds for petitioning for this form of separation.
Permanent legal separation – Typically, neither spouse intends to reconcile when pursuing a permanent legal separation. Creating a formal separation agreement is crucial to negotiate the terms, such as property division, before filing for divorce.
Informal legal separation – During an informal legal separation, the couple resides in separate residences for at least one year before they are allowed to file for divorce. However, reconciliation is a possibility. A separation agreement isn't necessary but could resolve potential issues if the separation leads to divorce.
Pursuing an immediate divorce might seem daunting. Many couples find separation a better option. Choosing which type of separation works best for your situation is vital. Whether your goal is eventual divorce or working out your marriage, you should contact one of the Pittsboro family lawyers from Marshall & Taylor PLLC for legal assistance.
Drafting a Separation Agreement
A separation agreement is a legal document a married couple can create to outline each spouse's rights and obligations during the separation. It can also include the terms of a future divorce if either party decides they want to file.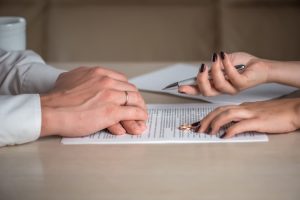 The most common terms in a separation agreement include:
Alimony – One spouse might pay the other alimony temporarily or permanently. It can cover various expenses, such as food, housing, clothes, and medical costs. The agreement should contain a clause that outlines the amount, frequency, and duration of payments. Even if you and your spouse are uninterested in seeking alimony, agreeing on an arrangement is a good idea just in case either of you changes your mind once divorce proceedings begin.
Property division – North Carolina is an equitable distribution state. That means the court divides property equitably and fairly. However, equitable doesn't always mean equal. You might think a 50/50 split is fair, but the law considers various factors, including each person's income and the length of the marriage, when determining who gets what. You should decide who can keep the assets you share to avoid a fight down the road.
Debt division – Dividing debt is as essential as dividing assets. If you share debt, you should decide how to allocate it between you. North Carolina divides debt by equitable distribution laws. You could avoid taking on your spouse's debt if you specifically state in the separation agreement that they are responsible for the debt they accrued.
Child custody – One of the most contentious parts of separation is custody of the children. If you and your spouse have kids, you need to determine who will continue to live with them during the separation and following a divorce. It's critical to specify the type of child custody arrangement you intend to have and create a schedule for visitation for the spouse who won't reside with the children.
Child support – Child support is also a challenging aspect of a separation agreement. You should discuss with your spouse who is responsible for providing child support payments to meet your child's basic needs, such as food, clothing, and education.
Tax clause – Some couples include a tax clause in their separation agreement. This allows each spouse to file joint taxes while separated. You can also decide which of you will receive the tax refund or whether you want to split it.
Children and taxes – Separation agreements can also include terms regarding which spouse can claim their children as dependents. The parent with physical custody of their kids receives an automatic dependency exemption unless you specify otherwise in the agreement.
College expenses – Determining how to pay for your child's higher education is essential. You can determine whether both of you will pay and how much each person will contribute. Including this in the separation agreement benefits many couples because some make significantly higher or lower incomes than others or don't work in order to care for the children at home.
Dating clause – If you want the freedom of dating other people during the separation, you should discuss it with your spouse. A dating clause allows each person to act like they're no longer married. You can negotiate the terms of this clause, such as whether the new significant other is allowed to sleep over when the kids are around.
Contact Us
Marshall & Taylor PLLC has experience handling separation cases successfully for our clients. When you're going through a challenging time in your marriage, you need a dedicated legal team in your corner.
Our separation lawyers in Pittsboro, NC, can relieve your burden by handling the legal aspects of your case. We will provide legal guidance and fight for your rights.
If you want to separate from your spouse, call Marshall & Taylor PLLC for your initial consultation at (919) 833-1040 today. We're available 24/7 to speak with you and advise you about your legal options.