If you're considering filing for divorce or currently dealing with divorce proceedings, contact Marshall & Taylor PLLC right now. We can handle the complex nature of divorce while we represent our client's best interests. You will receive the legal support and services necessary to negotiate the terms and settle all matters involved, including property division, alimony, and child custody.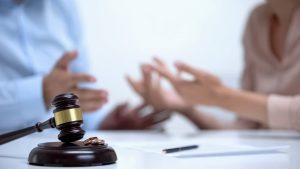 When you make the heart-wrenching decision to end your marriage, you suddenly face a range of issues you and your spouse must resolve. Even if you remain respectful of each other, making arrangements to dissolve a marriage can become contentious quickly. Having an experienced and dedicated divorce lawyer in Pittsboro, NC, could benefit your case.
Marshall & Taylor PLLC has the resources necessary to assist our clients with each step of the divorce process. It's often overwhelming to handle it alone. You can count on us to remain by your side to protect your rights and fight to try to reach your goals. Call us for a confidential consultation today at (919) 833-1040.
Divorce Cases Marshall & Taylor PLLC Takes
Marshall & Taylor PLLC has experience representing our clients in various matters involving divorce. We can handle family law cases, such as:
Uncontested divorce – An uncontested divorce means each party agrees to matters involved in the legal proceedings. Instead of taking the case to court for a judge to resolve, the divorcing couple can settle the terms themselves.
Contested divorce – A divorce is considered a contested divorce when both spouses can't agree on issues, such as property division, child custody, alimony, or other arrangements. A judge needs to step in and resolve the disputes for them. That means the divorcing couple has limited control over the outcome.
Domestic violence and restraining orders – Arguments are common in any relationship. However, a simple disagreement in your marriage could turn into a physical altercation. Marshall & Taylor PLLC can help you file for a restraining order against your spouse to keep you safe from further harm.
Mediated divorce – A court-appointed mediator can meet with you and your spouse to assist in divorce negotiations. It's often an expedited process and can be cheaper than spending time in court to discuss arrangements regarding the division of debts and assets, child custody and visitation, and child support.
Alimony – If you're financially dependent on your spouse, you could petition the court for alimony. The judge will consider relevant factors to determine whether you or your spouse is entitled to alimony payments.
Collaborate divorce – A collaborative divorce involves reaching amicable agreements while negotiating the terms of a divorce. It's a more efficient and less costly alternative to traditional divorce proceedings.
Property division – Splitting assets, such as the marital home, bank accounts, motor vehicles, and retirement funds, is one of the most contentious parts of the divorce process. Typically, courts divide property based on equitable distribution. Marshall & Taylor PLLC will represent your interests and fight for the property you want and rightfully deserve.
Child support – If a divorcing couple has children, they must decide whether the non-custodial parent should pay child support. The court often determines the payment amounts by reviewing necessary expenses, such as education, healthcare, food, clothing, and household costs.
Child custody – Before finalizing your divorce, it's critical to create a child custody agreement. You need to decide who your kids should reside with and whether the other parent has visitation rights. Judges consider what will promote the welfare and interest of the child when ruling on child custody cases. It is vital to base their decision on which parent can provide a more stable and safer environment.
Alternative dispute resolution – You can choose from various options to resolve the disputes you and your spouse face during divorce. You might need to meet with an arbitrator or mediator to help settle disagreements and negotiate the terms.
Separation – Multiple types of separation are available in North Carolina. It's often easier to legally separate than to file for divorce. A Pittsboro divorce lawyer from Marshall & Taylor PLLC could draft your separation agreement, outlining your decisions regarding living arrangements and other matters.
Why You Need to Hire a Divorce Attorney
Many people make the mistake of trusting their spouse to keep their word during divorce proceedings. Instead of hiring a lawyer, you believe the verbal arrangements you made with your spouse will translate to formal documents. Unfortunately, people may change their minds and decide to fight one or multiple terms of their divorce.
If you don't hire a lawyer, you could walk away from the marriage without the assets you want. Additionally, you might face challenges obtaining custody of your kids or alimony payments once the divorce is final. It's always beneficial to consult Marshall & Taylor PLLC about your case so you can protect yourself from unexpected obstacles.
Requirements of Getting a Divorce in North Carolina
Divorcing couples must meet the requirements below before filing for divorce:
Each spouse resided separately, meaning lived in different residences, for at least twelve consecutive months
At least one person lived in North Carolina for six months or longer prior to filing
A significant event doesn't have to occur to get divorced. North Carolina is a no-fault state, meaning it isn't a requirement for either party to prove their spouse's actions caused the marriage to end. However, if you want to pursue a fault-based divorce, you could seek a Divorce from Bed and Board (DBB).
The court might grant this type of divorce if any of the circumstances below apply to either spouse:
Maliciously forces the other person to leave
Excessively uses drugs or alcohol, resulting in a burdensome life for the other spouse
Abandons the family
Commits adultery
Endangers the other party's life by barbarous or cruel treatment
Mistreats the other person, making their life intolerable and causing them to suffer indignities
A DBB isn't an absolute divorce. You must file for divorce eventually. However, a DBB offers an immediate solution to the problem you face. You can have your spouse removed from your home without meeting the one-year separation period required to file for divorce.
Contact Us
If you want to divorce your spouse or need assistance resolving a dispute during divorce proceedings, contact Marshall & Taylor PLLC for your confidential consultation. Our divorce lawyers in Pittsboro, NC, are available 24/7 to take your call.
Call (919) 833-1040 now and let us help you fight for a brighter future.