Holly King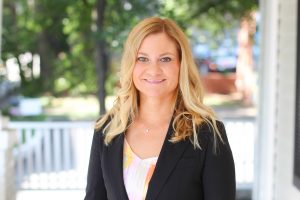 Holly joined Marshall & Taylor, PLLC, in June of 2020, with her practice focused exclusively on family law. She has experience representing clients in a wide variety of complex family law matters, including divorce and separation, child support, child custody, alimony, property division, and domestic violence. She is an experienced courtroom advocate and is dedicated to representing the interests of her clients, as well as guiding them through the complex and often intimidating legal system. In addition to courtroom litigation, Holly has represented clients at mediations and other collaborative law proceedings, and has experience negotiating settlements and separation agreements. Holly has experience representing clients throughout the state of North Carolina and enjoys learning the nuances of the practice of law in each county.
Prior to joining Marshall & Taylor, Holly was the owner and operator of her own firm, Holly King, PLLC, for almost five years. Holly is a member of the Wake County Bar Association, the North Carolina Bar Association, and the American Bar Association. Holly has been a volunteer with the Lawyer on the Line Program and is also a previous member of the Tenth Judicial District Fee Dispute Resolution Committee. She is currently serving on the Swearing-In Committee for the Wake County Bar Association.
In her free time, Holly enjoys running, horseback riding, and spending time with her German Shepherd, Axel.