Raleigh Uncontested Divorce Lawyers
If you want to file for divorce or have already started the process, contact Marshall & Taylor PLLC today. Although an uncontested divorce means the split is amicable and neither spouse disputes the terms, challenges can still arise.
You might have trouble finalizing matters, such as child custody or property division. Even though you want to treat each other fairly during divorce proceedings, you don't want to compromise your rights.
At Marshall & Taylor PLLC, our legal team understands how tumultuous and overwhelming divorce can be for everyone involved in the process. If you share minor children, there's additional stress while you decide whether you or your spouse should receive custody and child support. Dividing your property can also be complicated, especially if you own high-value assets.
The end of any marriage can bring up a range of emotions. Divorce often causes emotional pain and financial burdens when you're finalizing an agreement that works for both parties. One of the experienced and knowledgeable Raleigh uncontested divorce lawyers from Marshall & Taylor PLLC can provide the legal representation and support you need to navigate this complex matter.
Call us at (919) 833-1040 today for a consultation to learn about your legal options and how to protect your rights during an uncontested divorce in North Carolina.
What Is an Uncontested Divorce?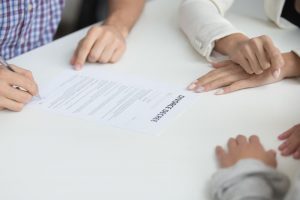 An uncontested divorce is when both spouses resolve issues regarding child support and custody, visitation, spousal support, property division, and other aspects of a divorce amicably. Conversely, a contested divorce involves disputes on certain matters and the necessity for a judge to determine what the appropriate arrangements should be.
When you go through an uncontested divorce, it's still a divorce. Even if you and your spouse can settle your issues while meeting both your needs and interests, the process can become emotionally charged.
Hiring a lawyer to represent you and guide you through each step could be beneficial. That way, you have someone in your corner to steer you in the right direction and avoid creating problems that could turn respectful negotiations into an all-out legal battle.
Benefits of an Uncontested Divorce
If you proceed with a contested divorce, you could spend significant time and money in court attempting to settle the terms. Judges often use their discretion to determine which party should receive custody of the kids and how to divide assets equitably. That means you could leave the marriage without the things you wanted. You have no control over the outcome of your case when the court handles the divorce.
The most common benefits of uncontested divorce include:
Save time – You can save a lot of time by working out disputed issues with your spouse and both of your lawyers outside of court.
Save money – Litigation can be expensive. When you face courtroom appearances, document filings, and other necessary aspects of a contested divorce, you end up spending more money than if you and your spouse settle your issues by other means.
Decreased stress – Divorce is stressful no matter what. However, it can be less stressful if you can avoid a time-consuming and costly fight with your spouse that drags on unnecessarily.
Private legal matter – Divorce proceedings become a matter of public record if you end up in litigation. Every document you and your spouse's attorney file becomes accessible to anyone that performs an internet search. In an uncontested divorce, you can prevent your private and sensitive information from ending up in the wrong hands, resulting in unintended consequences.
The ramifications of dealing with various disputes and paying for legal fees and court costs could disrupt your life and lead to unnecessary stress. If possible, it's better to go through an uncontested divorce, so you don't face the burden of going to court to settle issues with your spouse.
Difference Between an Uncontested Divorce and No-Fault Divorce
Some people use no-fault and uncontested divorce interchangeably. However, they're not the same thing.
A no-fault divorce means a divorcing couple doesn't need to prove misconduct occurred in the marriage, such as adultery or domestic violence. They only need to meet the requirements of getting a divorce under North Carolina law.
An uncontested divorce involves an amicable agreement to the terms of a divorce without the need to have a court determine child custody, child support, property division, and other essential elements.
North Carolina Process for an Uncontested Divorce
Before you can begin divorce proceedings, you must meet these requirements:
You have lived separately, meaning not under the same roof, for at least twelve consecutive months
At least one of you has lived in North Carolina for six months prior to filing for divorce
The divorce process in North Carolina typically involves:
Planning
You and your spouse can meet with separate divorce attorneys to outline your goals, needs, and interests. This step of the procedure can include:
A list of your assets, such as real estate, motor vehicles, bank accounts, and retirement plans
A list of your debts
Family heirlooms or other items you would like to keep following the divorce
Questions you might have about the process
Separation Agreement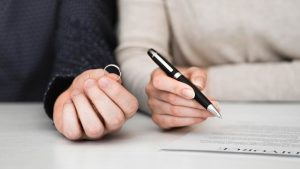 Your lawyer can draft a separation agreement to define specific terms, such as:
Who can reside in the marital home during the divorce proceedings and after you finalize the divorce
Whether you or your spouse will remain responsible for mortgage payments and property taxes on the home
Division of marital property and debts
Who can keep the car, and which person will be responsible for lease or finance payments
Matters Regarding Children
If you and your spouse share children, you will need to arrange:
Child support
Additional matters involving children
Signing the Documents
After reviewing the terms of your divorce and agreeing to each element, you and your spouse will sign the paperwork drafted by the attorneys. You will have to sign the documents in front of a notary public.
Finalizing the Divorce
Your lawyers can file the signed documents with the appropriate court to finalize the divorce. Although you won't need to appear in court for these proceedings, a judge will need to enter an order for the divorce to be valid and final.
Speak to a Trusted Uncontested Divorce Lawyer
Whether you're preparing for an uncontested divorce or you've already filed, you should seek immediate legal representation with one of the Raleigh uncontested divorce lawyers from Marshall & Taylor PLLC. You can depend on us to meet your needs and make the process as smooth and straightforward as possible for you.
Call us at (919) 833-1040 for your confidential consultation today.