Sarah Privette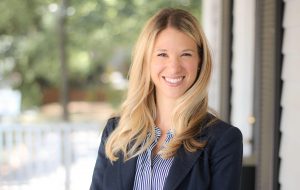 Sarah was born and raised outside Toronto, Ontario before moving south to Minnesota with her family in 1995. After graduating high school, Sarah attended the University of Minnesota where she focused on psychology and the intersection of mental health, psychology, and the legal system. While in college, Sarah managed intake calls for a domestic violence hotline, pointing victims to resources and working closely with law enforcement officers, interning with the Minneapolis Police Department in the Family Crimes Division and volunteering at a walk-in mental health clinic.
Sarah attended law school at Mitchell Hamline Law School in St. Paul, Minnesota. In her final year of law school, Sarah moved to the United Kingdom with her husband where she completed law school in London, earning both her American Juris Doctorate and her English Certificate in Law. After finishing law school, Sarah worked full-time for a family law firm in the United Kingdom and traveled as much as possible.
Upon returning to the U.S., Sarah was admitted to the bar in North Carolina where she has practiced since 2010. Sarah began her legal career at Legal Aid focusing on domestic violence and family law and as an advocate for the Battered Immigrant Project. There, she honed her family law knowledge before moving into private practice. Prior to joining Marshall & Taylor, PLLC, Sarah worked in a boutique family law firm focusing on complex child custody cases. She has handled numerous multi-day trials, and has litigation experience in both district and superior court on all family based issues including domestic violence, alienation of affection, equitable distribution, post separation support, child support, alimony, and complex custody cases.
Sarah is an active member of the Wake County Bar Association currently serving on both the Bar Awards committee and the professionalism committee. Sarah also volunteers her time as a mentor in the joint WCBA/Campbell Law School Mentorship program working with current law school students as they prepare to move into professional practice. For all of her hard work Sarah was voted by her peers to be named as a Super Lawyers "Rising Star," a distinction held by few lawyers in North Carolina.
Sarah lives in Raleigh, North Carolina with her husband and three boys. Having played hockey in college, she enjoys getting outside and being active with her sons, especially going on long runs, and enjoys getting in as much travel as possible whether domestically or internationally.
Admissions:
Licensed to practice law in North Carolina State courts and the U.S. District Court for the Eastern District of North Carolina
Honors & Awards
2020: Elected to the Board of Directors of the Tenth Judicial District Bar Association and received the President's Award