Lillie Ashworth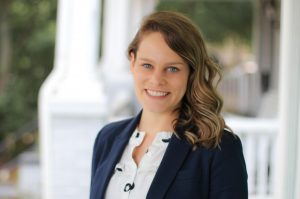 Originally from Charlotte, North Carolina, Lillie attended Myers Park High School and graduated with honors in 2009. A dedicated student and athlete, Lillie accepted a Division I swimming scholarship to Davidson College where she studied English literature. Lillie graduated from Davidson in 2013 and began her legal studies at Campbell Law School in Raleigh, North Carolina. While at Campbell, Lillie discovered her passion for family law. She interned in both the District and Supreme Courts as well as in private practice with family law firms. In addition to her internships, Lillie served on the student government committee and won the "Best Comment" paper to be selected to the Campbell Law Review. She was appointed Symposium editor her third year.
Lillie began working for Marshall & Taylor as an intern in 2015. After graduating from Campbell Law and passing the North Carolina bar exam in 2016, Lillie became a full-time attorney with our firm. Lillie is a member of the North Carolina State Bar, the North Carolina Bar Association, and the 10th Judicial District Bar as well as the Young Lawyers Division. Lillie has won several awards in her tenure as an attorney including being selected to the North Carolina Superlawyers "Rising Stars" list for 2020, 2021, 2022, and 2023 and being named a "Young Gun" for the Business North Carolina 2023 Legal Elite.
Lillie concentrates her family law practice on child custody, child support, spousal support, property division, separation agreements, and divorce litigation. Lillie additionally handles adoption cases and civil domestic violence.
In her free time, Lillie enjoys traveling, working out, and spending time with her spouse and young daughter in Raleigh, North Carolina.