Gracie Glover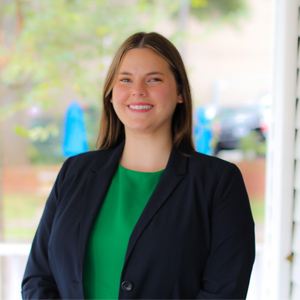 Gracie Glover is a North Carolina native originally from Swansboro, North Carolina. Gracie graduated from East Carolina University in 2017 with a degree in Business Administration with a concentration in Accounting. While at ECU, Gracie was involved in several on-campus activities and received state-wide recognition for her leadership within those organizations. She spent the following year after graduation traveling to campuses across the United States, providing assistance and programming to student leaders.
Gracie attended law school at Campbell Law in Raleigh. While at Campbell, Gracie was the head of the Campbell Law Innocence Project and a Campbell Community Law Clinic member. In the community law clinic, Gracie served clients in various matters, including record expunction, driver's license restoration, title repair, and domestic violence protection orders. After graduating from Campbell, Gracie was an associate attorney at a civil litigation firm representing clients in real property, municipal, and business litigation matters.
Gracie represents clients in all aspects of family law, including divorce, equitable distribution, premarital agreements, separation agreements, child support, child custody, spousal support, and domestic violence.
When she is not at the office, Gracie enjoys spending time trying new recipes and cheering on the East Carolina Pirates!