Reagan Warren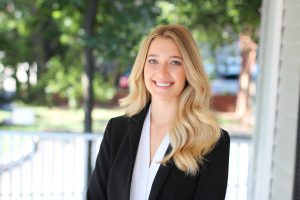 Reagan is an Associate Attorney at Marshall & Taylor, PLLC. She assists clients in a variety of family law matters, including separation and divorce, child support, child custody, spousal support, alimony, property division, and domestic violence. Having experienced divorce as a child, Reagan has a unique understanding of what her clients and their families are going through during the divorce process. Her goal with each of her clients is to put their minds at ease about their legal concerns so that they can focus on their own needs and those of their families.
Reagan is a 2020 graduate of Campbell Law School. As a law student, Reagan interned in the North Carolina Court of Appeals and worked in private practice in a broad range of civil practice areas, ranging from family law to bankruptcy. Reagan graduated magna cum laude from East Carolina University in 2017, earning a bachelor's degree in Communication with a concentration in Public Relations. Reagan's passion for advocacy began in college when she interned in the United States House of Representatives.
Reagan was admitted to the North Carolina State Bar in 2020. She is an active member of the North Carolina Bar Association, Wake County Bar Association, and Campbell Law Alumni Association. She currently serves as Co-Chair of the Young Lawyers Division's Speaker Series Committee and is a member of the Campbell Law Alumni Association's Membership Committee. Reagan also enjoys volunteering for the Blanchard Community Law Clinic where she assists individuals seeking criminal record expunctions.
In her free time, Reagan enjoys spending time with her family and friends, taking trips to the beach, and walking her dog, Oliver, around downtown Raleigh.